Great Swamp Watershed Association's far-ranging, day-long game spotlights 15 northern New Jersey landmarks.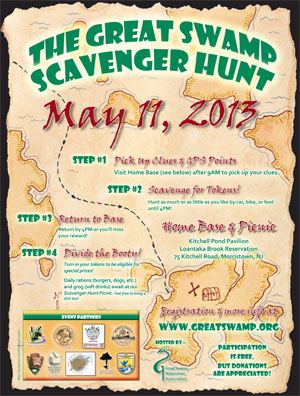 It's back! The Great Swamp Scavenger Hunt returns on May 11, 2013. Are you ready for another fun-filled day of exploration and discovery?
Last year's hunt was a real hit. Take it from Florham Park resident Liz Adinaro who said, "It was awesome!…I can't wait to come back this year with the kids."
Created and hosted by the Great Swamp Watershed Association, the Great Swamp Scavenger Hunt is a day-long adventure game that is one of the most entertaining ways to discover — or rediscover — some of the great sites of natural, cultural, and historic importance tucked away in northern New Jersey.
The concept is simple. Stop by the Kitchell Pond Pavilion at Loantaka Brook Reservation (75 Kitchell Road in Morristown) to pick up your official Great Swamp Scavenger Hunt Clue Kit — including GPS coordinates for geocachers — any time after 9 a.m. When you're ready, hop on your bike, or into your car, and set out to collect as many scavenger hunt tokens as you can from a total of 19 different locations in Morris County and Somerset County.
Participating sites include the Great Swamp National Wildlife Refuge, Morristown National Historical Park, the Somerset County Environmental Education Center, Morris County's Outdoor Education Center, The Raptor Trust, the Schermann Hoffman Wildlife Sanctuary, Meyersville Café, and Millington Gorge, so there will be plenty of exciting things to see and do along the way!
Return to Kitchell Pond Pavilion by 4 p.m. with a healthy appetite and as many tokens as you can. Every token collected is a chance to win one of several fantastic prizes donated by local businesses and organizations. Last year's prizes included a four-person tent, a high-end foldable camp chair, a NorthFace Recon backpack, a Mountainsmith camera bag, and lots of other outdoor recreational equipment.
Before prizes are awarded, enjoy a picnic barbeque courtesy of Great Swamp Watershed Association. Drinks, hot dogs, and burgers will be supplied. Feel free to contribute your own side dish to the covered dish buffet too! (Remember to bring along your own lawn chairs, blankets, or other alfresco dining supplies.)
To register for the Great Swamp Scavenger Hunt, or to find more information, please visit GreatSwamp.org or call 973-538-3500 x22. Participation is free, but donations to the Great Swamp Watershed Association are gratefully accepted. RSVPs via online or telephone registration are appreciated.