by Val Thorpe, Director of Communications & Membership
It turns out, with the proper motivation lots of people will leave the comfort of their warm, dry home… even in February. And they did.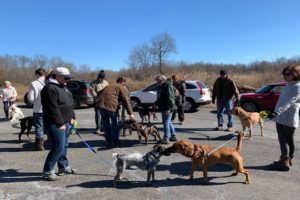 Our first-ever Pub Quiz (think Jeopardy) was a lively afternoon of laughter, brain power, some friendly competition, and prizes. Friends, families, and former-strangers-now-buddies teamed up to answer questions in categories such as birds, animals, cooking, and more. There were even audio (name that tune) and visual clues. A mid-game break gave everyone a chance to recharge their batteries with some well-deserved pizza and beer. When it was all over Team Starfish took first place, Team Fox came in second, and tied for third place were Teams Lobster and Broccoli. Each winning team left with goodies (first prize was a private guided hike) certificates, and best of all, bragging rights. This event was so wildly popular that it will definitely happen again! So be on the lookout!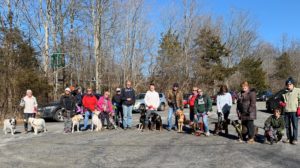 The Westminster Dog Show has nothing on our dog hike and the 13 adorable pups who brought their humans out to our Conservation Management Area (CMA) in Harding Twp. It was a gorgeous, crisp, blue-sky day – just right for a hike with your best friend. Led by GSWA Education Associate, Adam Palmer, it began with a meet-and-greet in the parking lot so the pups could sniff and get to know each other before taking off into the woods. As the group made their way along the well manicured trails Adam described his observations of the nature that surrounded us. He even conducted a mini show and tell with fungus, ferns, moss, and lichen, describing their differences and similarities, and their mutually beneficial symbiotic relationship. It's pretty cool stuff. From where I was standing it was an afternoon of wagging tails, fascinating facts, and perhaps some muddy paws.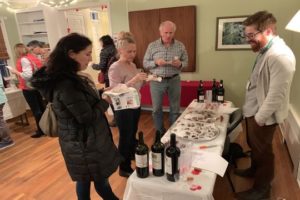 Interestingly enough, people will also venture outdoors for a little decadence. And rightfully so! At our pre-Valentine's Day wine and chocolate tasting event, our tasters enjoyed sampling eight different wines paired with eight delectable chocolates. Participants were given a scorecard that described each of the wines including what region they were from, the types of grapes, what the palate would experience, and the chocolate pairing. Bubbly banter was heard at the various tasting stations debating flavors and high notes, and we even snuck in a quick game of environmental knowledge with chocolate prizes. On the eve of Valentine's Day, it was a tasty way to prepare for Cupid's arrival.
February was not just about events. We also provided interesting and informative speaker programs on topics like environmentally sound gardening and eco-friendly cleaning products. These programs pack a different type of punch than say, a pub quiz. But ask anyone who has ever heard GSWA's Hazel England present on any topic and they will tell you – you will learn, you will laugh, and you will come back for more. Our staff and the professionals we bring in to lead these educational programs are top-notch presenters. Come find out for yourself!