As we celebrate the 60th year anniversary of the historic battle to prevent the Port Authority from leveling the Great Swamp and neighboring towns, we will be posting our clippings of newspaper articles of this fascinating saga here for you to enjoy: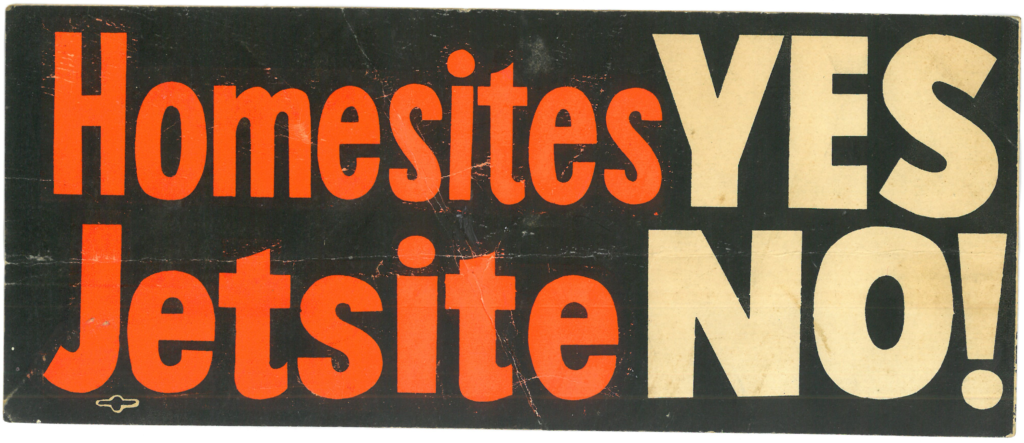 Poster – Regional-Map-Jersey-Jetport-Association
On December 17, 1959 a meeting was held at the Chatham Fire House that would create what was briefly known as the Jersey Jetport Action Committee but would then come to be known as the Jersey Jetport Site Association. The meeting was called in response to an announcement by the Port of New York Authority proposing the building of a new, state-of-the-art jetport. The site proposed was 10,000 acres of land in southeastern Morris County, 4,000 of which comprised the Great Swamp with the remaining 6,000 acres to consist of surrounding residential areas. The jetport site was to be bounded by Summit, Chatham, Madison, Berkley Heights and New Providence.
The purpose of the meeting was to create an anti-jetport organization. A Steering Committee was quickly formed and was comprised of Congresswoman Florence P. Dwyer, State Senator Thomas J. Hillery, Somerset County Freeholder Harry L. Fetherston , Mayor James M. Henderson of Chatham Borough and Congressman Peter Frelinghuysen as its Chair. A Citizen's Advisory Council, headed by former Montclair Mayor George K. Batt, was also formed to work closely with the Steering Committee. Read more about the JJSA here.
Newark Evening News – Jan 01, 1959 – Birdseye View of Jetsites Sells Lance on Burlington
Newark Evening News – Dec 04, 1959 – Zooming Air Travel Straining Airport
Newark Evening News – Dec 04, 1959 – "Airport Expansion Pg 2
Newark Evening News – Dec 15, 1959 – 11 Areas in New Jersey Glad to Skip Jets
Newark Evening News – Dec 15, 1959 – Legislature Not to Get Jetport Plan for Year , "Jetport Plan" p2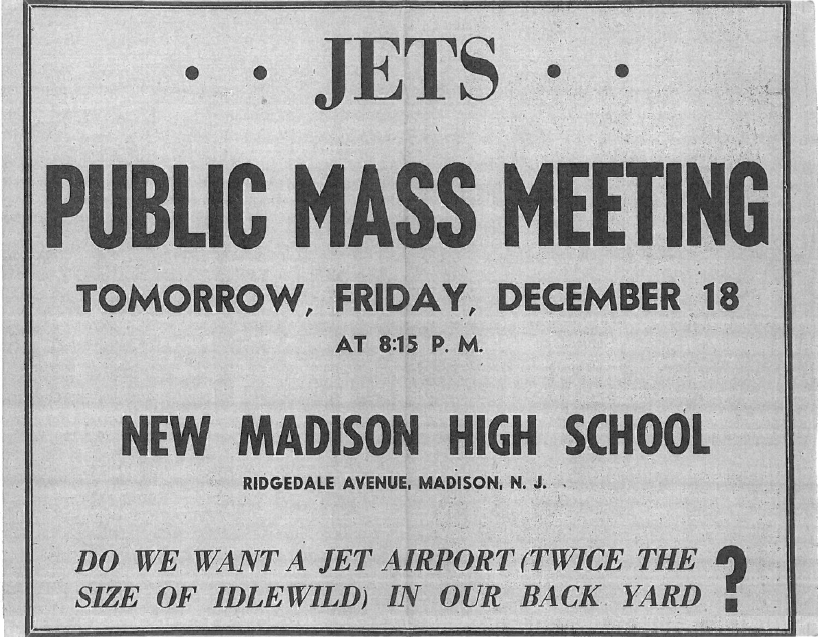 Newark Star Ledger – Dec 19, 1959 – Rally Against Jetport Overflows in Morris,  "Rally Against Jetport, Part 2"
Newark Sunday News – Dec 20, 1959 – "Jetport Blocked If Swamp Becomes a Park"
Newark Sunday News – Dec 20, 1959 –  Measuring Noise Jetport
Newark Sunday News – Dec 22, 1959 – PA Exec Swamp Or Nothing
Newark Sunday News – Dec 23, 1959 –  US Review Jersey Airports
While you're here, why not check out what we have coming up on our events calendar? Or maybe checking out the blog is more your speed. Interested in the history of this area, do you want to learn more about how to live a watershed friendly life?  – we've got you covered.