EVERY VOICE MATTERS!
Written comments must be submitted to the NJDEP by Thursday, March 23
regarding the KRE Harding Residential – Northeast WQMP Amendment Proposal
On March 9, 2023, New Jersey Department of Environmental Protection (NJDEP) conducted a virtual public hearing to consider amending the Northeast water quality management plan. Following that hearing, GSWA is urging the public to Submit your written comments to NJDEP re: Program Interest No. 435442, Activity No. AMD200007 (also known as KRE Harding Residential or S/K Mt Kemble) the proposed 96-unit development proposed in Harding. You must submit your comments no later than March 23 
Include your name, address, and contact information including your email address
Subject line for email or letter must include:

Program Interest No. 435442, Activity No. AMD200007

Opening of the letter should reference that "comments are pertaining to NJDEPs Proposed Amendment to the Northeast Water Quality Management Plan"
Comments should focus on environmental issues related to the addition of 9.3 acres to the Sewer Service area map (served by Woodland Wastewater Treatment plant)
NJDEP will NOT give weight to comments that are COPIED (or CUT and PASTE.)

Please put comments in your own words. You may use our Environmental Issues list (*scroll down to view) as a starting point.
Comments should refer to the proposed change in the Northeast Water Quality Management Plan as needed due to the addition of the development property to the Sewer Service Area
Comments should NOT refer to non-environmental issues such as noise, lights, traffic, or low-income housing
Please conclude your comments by stating your preferred outcome to the proposed amendment
Submit your comments (via Email or US Mail):
Email to: wqmp.publiccomments@dep.nj.gov
Email subject must say:

Program Interest No. 435442, Activity No. AMD200007

Must be sent by March 23, 2023
Also, share your submission with GSWA (*see below)
US Mail:
The top of the letter must note:

Program Interest No. 435442, Activity No. AMD200007

Must be postmarked by March 23, 2023
Also, share your submission with GSWA (*see below)
Address the envelope exactly as shown here:
New Jersey Department of Environmental Protection
Division of Watershed Protection & Restoration
Bureau of NJPDES Stormwater Permitting & Water Quality Management Planning Program
PO Box 420, Mail Code 501-02A
501 East State Street Trenton, New Jersey 08625-0420
*If you would like to also share your submission with GSWA, on your email to NJDEP, please copy: SRubin@GreatSwamp.org (or) if commenting via US mail, send a copy of your letter to: GSWA, P.O. Box 300, New Vernon, NJ 07976, Attn: Sally Rubin
Environmental Issues as related to the proposed KRE Harding Residential Development
Proposed Mt Kemble development would be located in a water deficit area as delineated in the Highlands Regional Master Plan
Water supplied to the proposed development will be withdrawn from a sub watershed (HUC14 – Great Brook above Green Village Rd ) categorized as being in water availability deficit
Water utilized in the proposed development will be transferred out of the sub watershed (HUC14 – Great Brook above Green Village Rd) to a different sub watershed (HUC14 Loantaka Brook) further exacerbating the water availability deficit
This 9.3-acre proposed development is not currently included in sewer service areas
The proposed development will extend the sewerage service area– not infill within a current coverage area
Issues concerning the replacement of 9.3 acres of woodland area with rooftops, hardscape, pavement, and lawn
Overall runoff volume will be increased to downstream properties due to a lack of post-development recharge of stormwater runoff
Flow path of post-development stormwater runoff will be altered from sheet flow over the majority of 9.3 acre site and be concentrated at two discharge points
Although the development meets the reduced overall runoff volume will be increased impacting sensitive downstream habitats
Stormwater runoff will contain increased nutrients and chemicals that will have a negative impact on downstream water quality
Proposed development does not satisfactorily meet New Jersey Administrative Code (NJAC) 7:8 requiring 100% of a site's annual pre-development stormwater recharge volume be maintained after development and 100% of the difference between the site's per and post-development 2 year runoff volumes be infiltrated on site. See pages 4 – 6 of the issues document attached here: Policy Excerpts from Informational Webinar Presentation
Issues regarding the direct downstream impacts to critical habitat for threatened and endangered species (T&E)
Increases in water volume to the Silver Brook (AKA – Catfish Brook) will cause bank erosion threatening known, critical wood turtle habitat at the GSWA CMA
Altered base flow volume will impact Federally funded vernal pool restoration directly downstream
Increased nutrients contained in stormwater runoff from the proposed development will negatively impact downstream water quality resulting in the impairment of sensitive macroinvertebrate habitat
Changes to the Northeast Water Quality Management plan as needed to expand the Sewer Service Area map will create significant additional effluent discharge volume, through the Woodland Wastewater Treatment Plant, into Loantaka Brook
Loantaka Brook HUC14 is classified by NJDEP as an impaired waterway.  NJDEP Water Quality Standards 7:9B protects the integrity of NJ waters for public health and aquatic biota which would be impacted by the increase in water volume and nutrients from the additional sewerage discharge.
Antidegradation policies 7:9B – 1.5d state that there can be no measurable change or lowering of water quality in Loantaka Brook, and that the developer should perform an Antidegradation Analysis if there is a possibility of a change and justify a need for lowering the water quality.
Additional nutrient loading caused by the increase in effluent from Woodland Wastewater Treatment Plant could exacerbate algal blooms in Kitchell Pond, which is part of Loantaka Brook HUC14.  Impacts from algal blooms could include the presence of blue-green algae classified by NJDEP as a harmful algal bloom (HAB)
Learn More about the Proposed Mt. Kemble Plan and Speak out to NJDEP to Help Protect our Waterways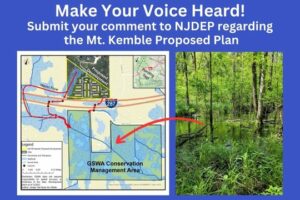 The proposed S/K Mt. Kemble development plan is for a 96-unit residential, multi-family condominium complex including affordable housing with a community clubhouse, playground, pool, and dog park. This 9.3-acre, forested parcel flanks Route 287 on one side and the Mt. Kemble office complex on another side. The third side bumps up against wetlands which connect to GSWA's 73-acre Conservation Management Area (CMA) under Route 287. The CMA contains sensitive wetland habitat for threatened and endangered species such as the wood turtle.
Converting woods to pavement and rooftops significantly increases impervious surface cover. This increases stormwater volume, likely resulting in downstream flooding, added nonpoint pollutant loading, and erosion of both Silver Brook and Great Brook. GSWA strongly opposes this proposed development and we are deeply concerned about the environmental impact we anticipate on our freshwater wetlands, water quality, recharge, and stormwater.
GSWA hosted an informational Zoom webinar on February 23 where staff and subject matter experts provided an overview of the facts and concerns. Below are the presentations and information shared on this webinar. Click the links below to view:
Help us spread the word about this call-to-action with other concerned citizens.
Be sure to share the link to this page: https://www.greatswamp.org/take-action/mt-kemble-condo-plan/
THANK YOU in advance for your help on this important environmental issue!
GSWA is not anti-development or anti-affordable housing. We strongly support affordable housing when properly located. We believe that locating this development on this site, with the environmental impacts it will cause, is inappropriate.