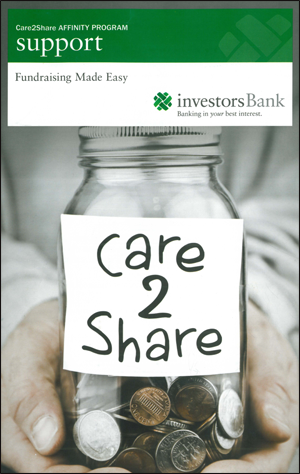 Investors Bank supports GSWA by providing regular donations through its Care2Share program. It's totally free, and with a little help from you and your family, friends, and neighbors, we can grow those donations into something special: special in a way that helps all of our environmental stewardship, education, and advocacy programs!
How does it work?
The Care2Share program allows you to link your personal deposit account at Investors to GSWA. On a regular basis, Investors looks at the number of accounts linked to us, calculates the average balance in those accounts, and makes a donation to us equal to a percentage of that average balance. It doesn't cost you a cent, and your favorite charity get an important financial boost!
How do I get started?
If you're already an Investors Bank customer, go to your local branch and tell them to link your personal deposit account to GSWA through the Care2Share program. That's it. You're done!
If you're not an Investors customer, grab $50 bucks (no antlers please) and set up a personal deposit account. Ask you bank representative to link the account to GSWA through Care2Share and off you go!
Not a bad deal, right? There's no time like the present to take it all to the bank!
Need more information about Care2Share? Click here for answers to some Frequently Asked Questions.