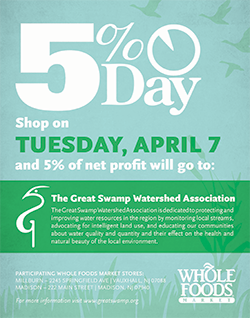 We are pleased to announce that Whole Foods Rose City (222 Main St., Madison, NJ) and Whole Foods Millburn-Union (2245 Springfield Ave., Vauxhall, NJ) will host a 5% Day benefiting the Great Swamp Watershed Association (GSWA) on Tuesday, April 7.
This means that five percent of the combined net profits earned at both stores that day will be donated to GSWA in support of its many programs.
So why not stop in to Whole Foods on April 7! Pick up some groceries, and say Hi! to GSWA staffers and volunteers, and support our organization all at the same time.