Chatham-Madison Town-wide Yard Sale to Benefit GSWA
April 17 at 9:00 am

-

1:00 pm
It's going to be a sunny day!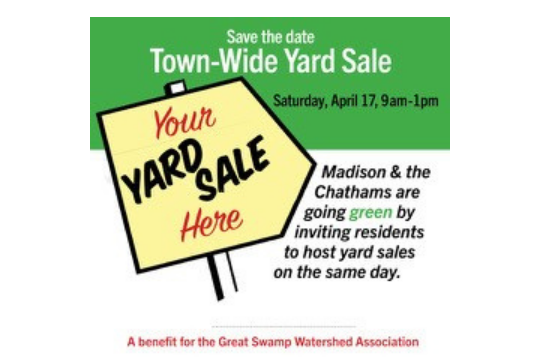 REGISTRATION TO HOST A YARD SALE HAS CLOSED, BUT YOU MAY STILL PARTICIPATE WITHOUT A PERMIT!
Shoppers, over 100 households are participating in this three-town-wide yard sale on Saturday, April 17! This is your chance to get outside, find some great deals, and shop sustainably.
Before you head out, check out the digital map of participating households below. You can also view/print the list of addresses and items for sale in the towns of Madison, Chatham Boro & Chatham Twp.
For a printable list of participant addresses and items for sale at each location, click HERE

Please note:
Shoppers and hosts must wear masks.

Please observe social distancing rules

Bring your hand sanitizer

Ask the yard sale host if they do contactless payment (Venmo, Apple Pay, etc)

Bring small bills and change

Bring your own reusable shopping bags
To our yard sale hosts – post-event recommendations for leftover items:

Our goal is to have the yard sale be zero waste. Contact following organizations to arrange pickups of your leftovers:
Vietnam Veterans of America (vva.org)
Lupus Foundation of America (Lupuspickup.org)
Market Street Mission (marketstreet.org) 
In addition, Habitat for Humanity's ReStore (morrisrestore.org/donate) does some pickups; it accepts antiques, furniture, flooring, brand new plumbing, painting supplies, doors and more.
Madison residents – you may also post items on Madison Swap and Share NJ, a new Facebook group – everything is free