Chatham-Madison Town-wide Yard Sale to Benefit GSWA
April 17, 2021 at 9:00 am

-

1:00 pm
It's going to be a sunny day!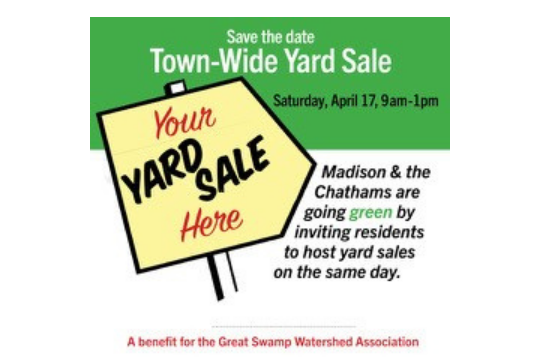 This event has passed.  Another Chathams/Madison community yard sale has been scheduled for Saturday, April 30, 2022, 9 AM – 1 PM. Click here for info and to register. 
Calling all residents of The Chathams and Madison. Planning to host a yard sale at this community event? Register below to have your address and a list of your items for sale to appear on a digital, printable map. The map will be linked to this page and publicized far and wide to potential shoppers. Simply scroll down and complete the registration form. You must be a resident of Chatham Township, Chatham Borough or Madison to list your sale. 
Registration Fee: $10 tax-deductible donation to benefit Great Swamp Watershed Association.
Everyone else, mark your calendar for April 17 to get out and shop sustainably at this amazing three-town-wide yard sale! Be sure to check back here before you head out to download the map (forthcoming). 
Frequently asked questions:
Why pay to be on the map?  Over the last three years, we have found that our town-wide sales attract shoppers from across NJ—and Pennsylvania. We promote the sale (and the map) in local media and on popular garage sale sites.
Can I have a sale without paying to be on the map?  Yes. Residents of the Chathams and Madison are welcome to hold sales on their own.
Do I need to pay a permit fee ?  No. The permit fee for this event has been waived for residents of Madison and The Chathams.
Should I put up a sign if I'm on the map?  Yes. Signs will attract additional customers who are just driving by.
What COVID-19 precautions should I take?  Shoppers and hosts must wear masks. Tables should be set up to facilitate social distancing. Hand sanitizer should be available and contactless payment encouraged.
Who do I contact with questions?  Please direct all questions to the Environmental Commission of The Chathams and Madison at mec@rosenet.org
What should I do with my yard sale leftovers?  Our goal is to have the yard sale be zero waste. Contact following organizations to arrange pickups of your leftovers:
Vietnam Veterans of America (vva.org)
Lupus Foundation of America (Lupuspickup.org)
Market Street Mission (marketstreet.org) 
In addition, Habitat for Humanity's ReStore (morrisrestore.org/donate) does some pickups; it accepts antiques, furniture, flooring, brand new plumbing, painting supplies, doors and more.
To register below, change the quantity from 0 to 1 and click "ADD TO CART" to begin the process.