POSTPONED: Pi Day Pub Quiz
March 14 at 6:30 pm

-

8:30 pm
Madison Community Arts Center
General Admission: $20; Students: $10
Event Navigation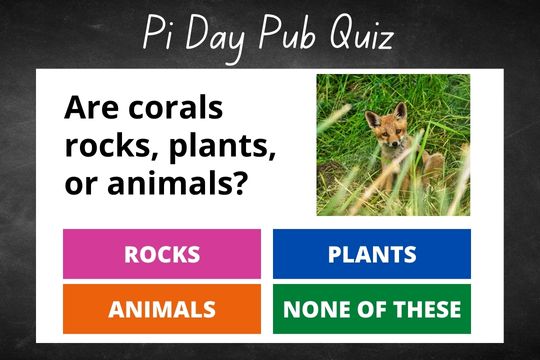 THIS EVENT HAS BEEN POSTPONED – NEW DATE WILL BE SHARED ONCE IT IS DETERMINED 
Come celebrate pi day with some pizza "pi" and a lively nature knowledge pub quiz. March 14 marks Pi Day, an annual celebration of the mathematical sign pi representing the first three digits of pi (3.14) and coincidentally, 3/14 also happens to be Albert Einstein's birthday. So, for all you smarty-pants out there, this is your opportunity to showcase your knowledge of nature, water, and the environment. Play for prizes and bragging rights!
Team sizes may range from 3-5 players. Friends busy that day? No worries – we will team you up with other enthusiastic players. Multiple choice questions range from beginner to expert level. Sample question: Are corals rocks, plants, or animals? Answer: Animals – made up of thousands of tiny animals called polyps
Socialize and refuel your game with free pizza and soft drinks at the mid-game break! The entry fee covers your individual quiz participation, 2 slices of pizza, and soft drinks, all at the beautiful Madison Community Arts Center.
Added bonus: door prizes and prizes for best team. Want to add to the fun? BYOP (Bring Your Own Pie) for desert to share with your team!
Ages 10 and older are welcome. Teams must have at least one member 18+ years of age to compete; team size: 3-5 players; maximum number of teams: 10.
This will event fill up fast and space is limited, so register today!