2nd Annual "Source to Sea" Virtual Challenge
January 21 at 12:00 am

-

March 26 at 11:30 pm
$35 includes challenge & commemorative decal;
$45 includes challenge, decal & dinner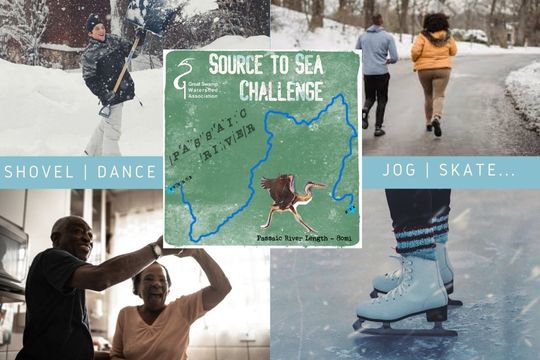 Ready for a winter challenge? Join us for our 2nd annual Source to Sea 80-mile virtual challenge where you will virtually travel the distance of the Passaic River.  Run, walk, bike, snowshoe, ski, dance, shovel, vacuum, roll – any indoor or outdoor activity you choose (as long as it is powered by you) – for 80 miles, the length of the Passaic River. This can be done from anywhere in the world. You will have just over 8 weeks to chip away at this goal that runs Saturday, January 21 through Sunday, March 26 from literally anywhere in the world!
Click below to learn more and register (this will take you to a 3rd party platform)
Choose one activity or any combination to accomplish your goal. Start small and build on it, tackle it in big chunks, or anything in between. This is your challenge to accomplish however you see fit.
Activity Conversion Chart
Click HERE to view an Activity Conversion Chart to help you calculate your mileage for the various activities you may choose to reach your 80-mile goal.
Free GSWA Decal
The $35 registration fee includes a fun, commemorative GSWA decal for you to proudly display on your car or fridge. You will receive this in the mail in March. Additionally, all finishers receive one free ticket to GSWA's Great Swamp Great Music festival in June 2023 (a $30 value).
Kickoff Carb-load Pasta Dinner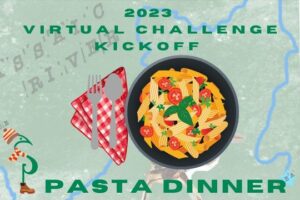 Join other Source-to-Sea participants  sometime in March for a Carb-load pick-me-up. You will enjoy baked ziti,  a healthy salad, and some sides, served to you by GSWA staff members at our headquarters in  Morristown, NJ. We will also provide soft drinks but feel free to bring whatever libations you would like to compliment your meal. Be on the lookout for the pasta dinner coming soon!
Questions on any of this? Email Lynne: LApplebaum@GreatSwamp.org
Are you ready? Let's get moving together!