Registration Closed – Shoppers: scroll down for map and sale items for Chathams-Madison Town-wide Yard Sale
September 25, 2021 at 9:00 am

-

1:00 pm
$10 Fee to list your sale on our online map. Provide details of the types of items you are selling to attract buyers.
Event Navigation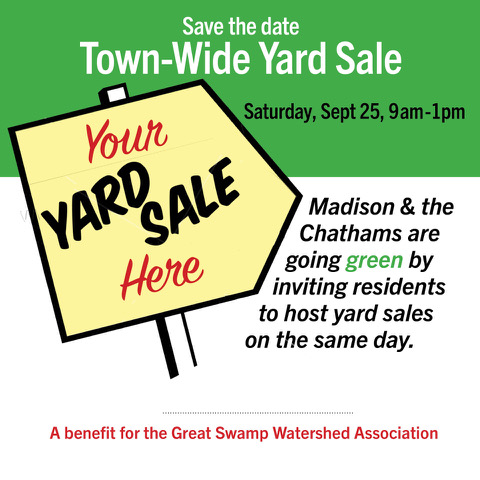 This event has passed.  Another Chathams/Madison community yard sale has been scheduled for Saturday, April 30, 2022, 9 AM – 1 PM. Click here for info and to register. 
REGISTRATION IS NOW CLOSED
FOR ALL YOU SHOPPERS, SCROLL DOWN TO CHECK OUT THE  MAP OF PARTICIPANTS AND ITEMS FOR SALE BY ADDRESS


Calling all residents of Madison and The Chathams. Planning to host a yard sale at this community event? Register below to have your address and a list of your items for sale to appear on a digital, printable map. The map will be linked to this page and publicized far and wide to potential shoppers. Simply scroll down and complete the registration form. You must be a resident of Madison, Chatham Township, or Chatham Borough to list your sale. 
Registration Fee: $10 tax-deductible donation to benefit Great Swamp Watershed Association.
Everyone else, mark your calendar for September 25 to get out and shop sustainably at this amazing three-town-wide yard sale! Be sure to check back here Friday, Sept 24 at 9am for a digital map of all yard sale participants. The map will also be published in local media and on town sites.
TO REGISTER – SCROLL TO THE VERY BOTTOM ⬇️ OF THIS SITE. Change the quantity from 0 to 1 and click "ADD TO CART" to begin the process. 
Frequently asked questions:
Is there a rain date? No. The sale will be held rain or shine.
Why pay to be on the map?  Over the last three years, we have found that our town-wide sales attract shoppers from across NJ, NY, and PA. We promote the sale (and the map) in local media and on popular garage sale sites.
Can I have a sale without paying to be on the map?  Yes. Residents of the Chathams and Madison are welcome to hold sales on their own.
Do I need to pay a permit fee?  No. The permit fee for this event has been waived for residents of Madison and The Chathams.
Should I put up a sign if I'm on the map?  Yes. Signs will attract additional customers who are just driving by.
What COVID-19 precautions should I take?  Shoppers and hosts must wear masks. Tables should be set up to facilitate social distancing. Hand sanitizer should be available and contactless payment encouraged.
Who do I contact with questions?  Please direct all questions to the Environmental Commission of The Chathams and Madison at mec@rosenet.org
What should I do with my yard sale leftovers?  Our goal is to have the yard sale be zero waste. Contact following organizations to arrange pickups of your leftovers:
NOTE: Registering on this site is the only way to have your listing appear in the official map of sale sites for the September 25, 2021 Chathams-Madison Town-Wide Yard Sale. The coordinated publicity undertaken by the Chathams, Madison and GSWA results in hundreds of buyers from all over the tri-state area. Supplementary ads are unnecessary.