GSWA Annual Meeting
December 7 at 5:00 pm

-

5:30 pm
Great Swamp Watershed Association HQ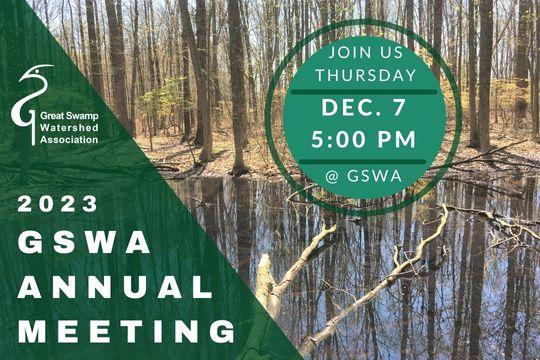 We invite you to join us for wine and light snacks and to meet the dedicated individuals of the Great Swamp Watershed Association – our passionate staff and esteemed board of trustees! You'll have the opportunity to hear about the accomplishments of GSWA in 2023, learning about our impactful work for the Great Swamp watershed and the broader Passaic River region, spanning advocacy, education, and water quality, as well as our land preservation and stewardship.
We extend our heartfelt gratitude for the support of our members and volunteers, who help us fulfill our mission to protect water and land for a healthier environment for current and future generations!
Registration is not mandatory, but your RSVP will help create a seamless evening. You must be 21 or older to consume alcoholic beverages.