POSTPONED: Madison & The Chathams Town-wide Yard Sale
April 29 at 9:00 am

-

2:00 pm
$10 gets your address & sale items on a digital map shared with the public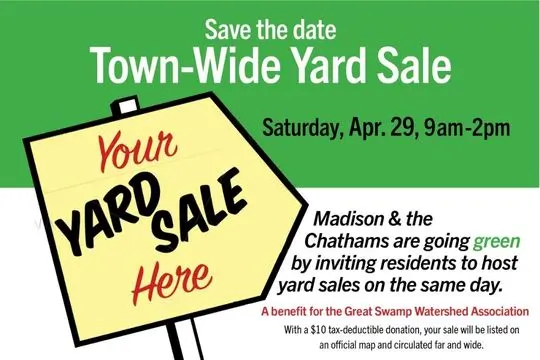 Despite wanting to hold this community event rain or shine, the weather forecast for April 29 calls for continuous and heavy rain. Therefore, we've made the difficult decision to postpone it to Saturday, May 6. We realize this may be a big inconvenience, but feel it is necessary. We will email all registrants to confirm if you wish to be on the map for the new date.
Note: You are welcome to hold a yard sale on your own on April 29 and you can also be on the map for next week if you choose to do both Saturdays.
Please direct any immediate concerns to the Environmental Commission of The Chathams and Madison at MEC@rosenet.org
Registration Deadline: Wednesday, April 26 @ 11:55 PM to get your address and sale items on the map. 
CHECK BACK HERE ON April 28 FOR A DIGITAL MAP OF ALL YARD SALE PARTICIPANTS AND A LIST OF SALE ITEMS.
These documents will also be shared in local media and on town sites.
One person's trash is another person's treasure. Now is the time to start checking your closets, basement, and garage for those hidden treasures and prepare to host a yard sale at the at this community event. Scroll to the bottom of this page and register to have your address and a list of your items for sale to appear on a digital, printable map. The map will be linked to this page and publicized far and wide to potential shoppers.  You must be a resident of Chatham Township, Chatham Borough or Madison to list your sale.
Registration Fee: $10 tax-deductible donation to benefit Great Swamp Watershed Association.
Everyone else, mark your calendar for April 29 to get out and shop sustainably at this amazing three-town-wide yard sale! Be sure to check back here on Apr. 28 before you head out to download the map.
Happy sales to you!
Frequently asked questions:
Why pay to be on the map?  Over the last three years, we have found that our town-wide sales attract shoppers from across NJ—and Pennsylvania. We promote the sale (and the map) in local media and on popular garage sale sites.
Can I have a sale without paying to be on the map?  Yes. Residents of the Chathams and Madison are welcome to hold sales on their own.
Do I need to pay a permit fee ?  No. The permit fee for this event has been waived for residents of Madison and The Chathams.
Should I put up a sign if I'm on the map?  Yes. Signs will attract additional customers who are just driving by.
Who do I contact with questions?  Please direct all questions to the Environmental Commission of The Chathams and Madison at MEC@rosenet.org
What should I do with my yard sale leftovers?  Our goal is to have the yard sale be zero waste. Contact following organizations to arrange pickups of your leftovers:

Vietnam Veterans of America (vva.org)
Lupus Foundation of America (Lupuspickup.org)
GreenDrop (gogreendrop.com)
Market Street Mission –

clothing only, please

(marketstreet.org)
In addition, Habitat for Humanity's ReStore (morrisrestore.org/donate) does some pickups; it accepts antiques, furniture, flooring, brand new plumbing, painting supplies, doors and more.
To register below, change the quantity from 0 to 1 and click "ADD TO CART" to begin the process.