Local Screening of the "Saving the Great Swamp" – Free
September 25 at 7:00 pm

-

9:00 pm
Morristown & Morris Township Library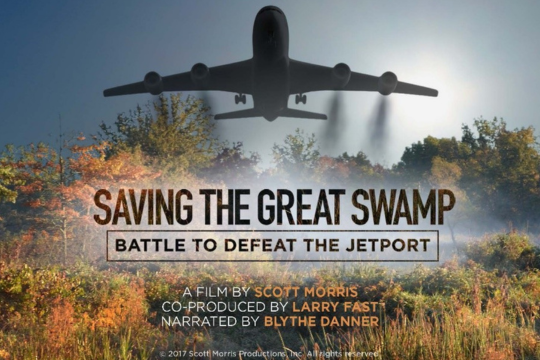 Registration is NOT required! 
The "Saving the Great Swamp: Battle to Defeat the Jetport" Documentary will be shown at the MMT Library
6:30 PM: Doors open, 7 PM: Film Begins, 8 PM: Panel Discussion
In 1959, the Port Authority of New York announced plans to build a huge international jetport in the swamp. This "done deal" proposal, would have filled in the swamp, demolished 700 homes, and changed the landscape forever. But a small group of concerned citizens opposed the threat and won.  The award-winning one-hour documentary "Saving the Great Swamp," tells the story of the events, people and politics behind the struggle to preserve this beautiful rural area between 1959 and 1968. USA Today called the film "a truly astonishing and entertaining history lesson" and it has aired nationally on PBS.
The film will be shown at 7:00pm in the Meeting Room of the MMT Library and admission is free. Registration not required.
Join Us for the Other Water Quality Events at The Morristown & Morris Township Library!
Deepen your understanding of water quality and its pivotal role in our community by attending the Local Screening of the "Saving the Great Swamp: Battle to Defeat the Jetport" Documentary, along with two others events described below. All three are free events, but registration is required for some.
GSWA's bi-annual Stream Assessment Training – Sunday, September 24, 1 – 4 pm. Join us for this free training workshop and learn how to monitor a stream or simply gain a better understanding of stream health. Registration is required.
GSWA's Water Quality in Loantaka Brook Presentation – Tuesday, September 26, 6 – 8 pm.  The Great Swamp Watershed Association has been monitoring the water quality of our local streams for over 40 years. In this presentation by Director of Water Quality, Sandra LaVigne, we will focus on the water quality in Loantaka Brook, how it has changed over the years, and what we can do in the future to help improve it. Registration is required.