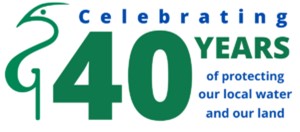 In 2021, the Great Swamp Watershed Association (GSWA) celebrated 40 years as an environmental advocate protecting the local waters and land along the Passaic River. Our story began with a grassroots group of concerned residents who saw the development occurring around the Great Swamp watershed as a new and imposing threat twenty years after winning the battle against the NY Port Authority to build a jetport. These residents saw that the local towns were not considering the impact of development on the watershed and its fragile ecosystem.
In 1981, the grassroots group incorporated and operated the first ten years with volunteer representatives attending public hearings on poorly conceived development plans. GSWA became influential in improving designs and raising awareness about potential risks to this valuable water resource. The organization's first paid position began in 1991 and grew to six staffers by 2001. During this time, the staff worked diligently to establish water quality standards for the watershed. We currently have a staff of ten.
Land acquisitions, directly and indirectly, become a priority to preserve the land, streams, and wetlands in the watershed. Our ecological stewardship area on Tiger Lily Lane in Harding Township was initially called the GSWA Conservation and Education Area and was initially only 23-acres. It was later renamed the Conservation Management Area (CMA) and today is a 73-acre wooded natural area with 3.5 miles of boardwalk and mulched trails. The CMA is open to the public for walking, hiking, and nature study, and is used for our various educational programs and events. In 2017, GSWA received the prestigious National Land Trust Accreditation Seal furthering our vision to protect, preserve and promote New Jersey's open spaces. Learn more at the GSWA Conservation Management Area HERE.
GSWA's mission to serve as an environmental advocate and land steward, to monitor and identify potential threats to our waterways, and to increase public awareness, has evolved each year. Recently, GSWA established a Community Advisory Group (CAG) through the Environmental Protection Agency (EPA) to oversee the cleanup of the Rolling Knolls Landfill. Located in the Green Village section of Chatham Township, this 200-acre site was placed on the EPA's National Priorities List as a Superfund for cleanup back in 2003. The CAG is made up of representatives with diverse community interests, including residents near the site and who may be impacted by the site, providing the community a public forum to express their concerns. GSWA continues to lead this effort today. Learn more about Rolling Knolls HERE.
The Passaic River Region
By our 30th Anniversary in 2011, GSWA's water quality, education, and land conservation programs had developed and grown in impact and reach. Year over year, GSWA programs organically began to expand our vision beyond the Great Swamp watershed to the entire Passaic River region. The Great Swamp waterways exit at Millington Gorge, forming the upper reaches of the Passaic River, with the water flowing downstream all the way to the Newark Bay.
In 2016, GSWA became the official Waterkeeper Alliance Affiliate for the Passaic River. As a proud affiliate, GSWA supports and advances the Alliance's mission of "drinkable, fishable, swimmable water everywhere." We developed a new Mission Statement expressing our commitments to encompass the entirety of the Passaic River with our educational and water quality efforts and began our expanded water quality monitoring downstream. Learn more about our Passaic River Waterkeeper Alliance Affiliate HERE.
Since our founding, our water quality program has been collecting water data above Millington Gorge, our historical end point. With GSWA's expanded mission, the first data collection expansion (2017 – 2019) brought us downstream to Livingston and the second (2020 – 2022) went as far as Little Falls. Starting in 2023, we will begin the third expansion which will encompass the river as far as Dundee Dam. This expansion will take us down to Garfield on the east side of the river and Clifton on the west side. This section of the river is dominated by the City of Paterson as the river loops around the outside of the city nearly surrounding it. We are the only entity—non-profit, corporate, or government—monitoring the five main streams of the Great Swamp Watershed and Passaic River on a consistent basis. Learn more about GSWA Water Quality Testing HERE.
In addition to our many environmental educational programs, GSWA proudly partners with Students 2 Science (S2S) another non-profit educational organization with a mission to inspire, motivate, and educate elementary, middle, and high school students in disadvantaged communities to pursue careers in science, technology, engineering, and math (STEM). Our educational staff will provide nine full-day sessions in Fall 2022 through S2S to bring environmental programs to underserved students in Orange and Paterson high schools. With nine additional days scheduled for Spring 2023, GSWA will engage students to learn about the natural sciences at the GSWA CMA and help them learn how to determine the value and health of a freshwater ecosystem. Learn more about GSWA School Programming HERE.
After over forty years of protecting and monitoring the headwaters of the river, the GSWA staff, Board of Trustees, Advisory Council, and membership base are committed more than ever to continue our work to protect the Great Swamp watershed and the entire length of the Passaic River now, and for generations to come.
2022 GSWA Gala Theme of Environmental Justice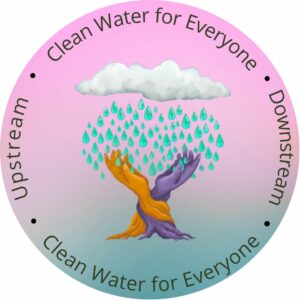 The GSWA's vision of environmental advocacy and leadership evolves once more. With our origin beginning in protecting the upper reaches of the Passaic River, today we look downstream to how we can help advocate for climate and environmental justice in our Passaic River region. There are many urban communities, such as Paterson and Newark, which are burdened with historic industrialization and pollution. In the 80's, the last 17-miles of the Passaic River was designated a federal Superfund site caused by the contamination by Diamond Alkali (through its production of Agent Orange as a defoliant for the Vietnam War) and other corporations. The long legacy of industrial pollution has rendered the Lower Passaic un-swimmable and un-fishable, and by most standards, un-livable. These overburdened communities have also been historically impacted by heavy development and increased areas of impervious cover, with flooding and runoff only compounding the environmental issues. These communities are vulnerable to the effects of climate change, the increase of major storms, and the flooding that has occurred with even the most basic rain falls.
We support a "One River, One Community" vision for the rural, suburban, and urban communities along the Passaic River. We imagine a time when residents, businesses, and governments along the Passaic will work actively and cooperatively to protect and promote clean, safe water. The reward will be a bountiful environment for everyone, that supplies healthy water for drinking and recreation, provides controls for flooding and erosion, supports abundant vegetation and wildlife, and forever inspires with its natural beauty.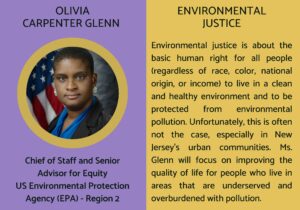 The GSWA 2022 Gala Celebration theme on October 18th is Environmental Justice. This is our biggest annual fundraising event, held at the Brooklake Country Club in Florham Park, to ensure GSWA's vision about fulfilling the basic human right that all people, upstream and downstream, deserve to have clean water and a healthy environment. This year's keynote speaker is Olivia Carpenter Glenn, the Chief of Staff and Senior Advisor for Equity in Region 2 of the US Environmental Protection Agency (EPA). Ms. Glenn's focus is on improving the quality of life for people who live in areas that are underserved and overburdened with pollution. She is a longtime advocate who believes all people have a right to experience and enjoy the benefits of nature and works to ensure underserved communities have access to the outdoors.
The 2022 Gala event occurs on The Clean Water Act's 50th anniversary date, too! Join us in toasting the nation's first comprehensive legislation protecting water quality by ending the culture of dumping raw sewage and untreated industrial waste into our waters. The Clean Water Act dramatically improved the health of the waterways in the United States, but there is more work to be done to protect communities around the country. And in our region to demand equal justice and access to clean water for all.
Join like-minded friends of the environment at the GSWA 2022 Gala Celebration on October 18th for an important presentation on environmental equity and an evening filled with good food and drink, spirited mingling, and browsing our popular Silent Auction. VIP Premier ticketholders join us at the Brooklake Country Club in Florham Park at 5 PM for a private VIP cocktail hour reception with gourmet appetizers. Tables of 10, benefactor and individual ticketholders begin entering the event at 6 PM for the Gala cocktail hour and silent auction. The Gala dinner and keynote speaker presentation begins at 7:30 PM. New this year is a young professional reduced ticket rate. We invite these young professionals to come meet the staff and supporters of GSWA at 6 PM at the Brooklake Country Club. We aim to inspire and connect young professionals with the environmental issues of the Passaic River region and in New Jersey. Secure your tickets today at greatswamp.org/event/gala-2022.
The Great Swamp Watershed Association, headquartered in Morristown New Jersey, is a non-profit, member-supported environmental organization. Our mission is to monitor and protect water quality in the Great Swamp watershed and Passaic River region. GSWA investigates and participates in land use issues and provides environmental education to community groups, teachers, and students. Our vision is to help everyone understand the important role we each play in protecting our drinking water and preserving the natural beauty of our environment.