We are excited to share the news – we've preserved an additional 20 acres of land on Tiger Lily Lane in Harding Township! This plot of land is adjacent to our 53-acre Conservation Management Area (CMA), and increases the area to 73 contiguous acres, open to the public for exploring natural habitats, and enjoying passive, recreational opportunities like hiking and bird watching.
At a ceremony attended by our board and staff members, representatives of various environmental organizations, and GSWA supporters, GSWA Board Chairman, Matt Krauser, officially cut the ribbon at the entrance of the property on November 29th.
We acquired the property th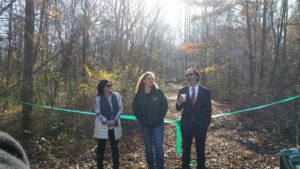 rough a generous donation on November 9, 2017. This is our first land acquisition since being named as one of only eight accredited land trusts in New Jersey in September of this year. Sally Rubin, GSWA Executive Director, and Hazel England, GSWA Director of Education and Outreach and Land Steward, were instrumental in achieving this significant accomplishment.
"We have dreamed of owning this critical piece of property for many years!" stated Sally. "This is the first of what we believe will be many of these ribbon-cutting ceremonies, celebrating additional land acquisitions as we preserve more open space as part of our expanded mission."
The CMA is fully protected and stewarded by GSWA. It contains critical wetlands, vernal pools, and forested areas. Traversed by a network of trails that are open to the public, and containing over 40 interpretive signs, the CMA is also utilized by our educators as an environmental teaching center. We plan to expand and enhance the trail system with the addition of this 20-acre tract, and utilize the property to improve flood control and protect native habitat.
The property adjoins approximately 25 acres of land that has been preserved by the Harding Land Trust. Together, this provides a combined 100+ acres available to the public for hiking, birding, exploration, and more.
The ribbon-cutting event concluded with a brief hike on the newly acquired land, led by Hazel England. Hazel outlined some of our initial plans, which include the removal of invasive species, and building additional trails.
"Ten days after taking official ownership of the property, our enthusiastic volunteers joined us to help ready the CMA trails for the winter, and build a connector trail to link our existing trail system to the new area," said Hazel.  "Visitors can now park at the cul-de-sac, and crisscross the entire 73-acre management area without ever leaving the property, which is very exciting!"
This acquisition of land continues to grow our momentum after an exciting 18 months that has included: receiving national recognition as an Accredited Land Trust; becoming the Passaic River Waterkeeper Alliance Affiliate; and hosting a highly successful gala, our largest fundraising event each year. Additionally, Sally Rubin received the 2017 U.S. Environmental Protection Agency Environmental Champion Award in April; and in November, Hazel England was honored for her wildlife conservation efforts by the Conserve Wildlife Foundation of New Jersey. And we don't plan to slow down any time soon…