Native Pollinator Plant Sale
April 1 at 9:00 am

-

April 22 at 5:00 pm
Choose from native pollinator plant kits and individual plant selections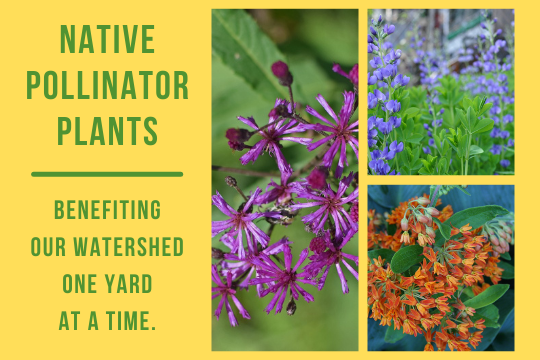 We have restocked! Place your order now through April 22.
Native Plant Pollinator gardens are delightful for homeowners and necessary to sustain wildlife. Finding a full selection of native perennials that will thrive in our local area can be hard, so we've done it for you!
Pollinator garden plans, kits, and a full selection of robust plants
Easily to follow How-to resources
Consultation with volunteers experienced with native plant gardening in yards like yours
Click HERE to view and purchase
Here's how our plant sale works:
Peruse the native pollinator plant kits and individual species add-ons in our Catalog. 
Take advantage of the easy Garden Resources page to make your decision
Place your orders no later than April 22. We encourage you to decide early because quantities are limited and we will sell out!
Pick up of your orders will occur on either May 1 or 2.
You will be assigned to one of [these plant sale partner-operated town pickup locations] based on your town of residence.
If you are not a resident of one of these towns, you will be assigned to a nearby pickup site.
Questions about the plants or garden designs should be directed to GSWAPlantSale@gmail.com
Enjoy spring to fall blooms and amazing butterflies and other pollinators beginning this summer and for many years to come!

Why plant a pollinator garden? Habitat to sustain our pollinators is vital – their services are necessary for the production fruits and vegetables and the health of our plant and wildlife communities. Pollinator gardens provide critical habitat and food (pollen and nectar) for insects and birds, whose populations are under threat. Even a tiny garden will attract and feed hosts of pollinators. As you can see, what you do with your yard is important. So, this Earth Day, April 22, celebrate your commitment to watershed-friendly living by planting or expanding your native pollinator garden!
This plant sale is brought to you by GSWA and 17 Plant Sale Community Partners in 10 towns: Bernards Township, Chatham Borough, Chatham Township, Harding Township,
Madison Borough, Morris Township, Morristown, South Orange, Summit, and Westfield.