Test the Tap – Residential Water Sampling
March 14 at 9:00 am

-

March 29 at 8:00 pm
Summit Free Public Library
Basic Public Water Test: $65;
Basic Well Water Test: $125
Event Navigation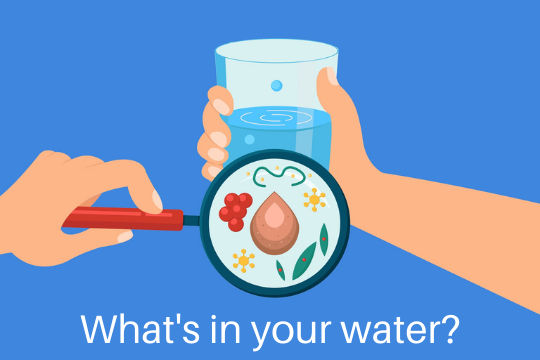 GSWA and The Summit Free Public Library are offering local residential well & public water testing at a discounted rate.
Why test the water inside your house? To take back the tap! The water you drink every day can have impacts on your family's health. Colorless and tasteless particles can become a health risk without your knowledge. Testing your public or well water is an opportunity to expose any potential areas of concern with the health of your water at discounted prices. Working through Garden State Labs, we can offer this testing at lab-cost.
Basic Well Water Package: $125
We constructed this package specifically for Great Swamp watershed residents based on the geography of the land and past data. Testing includes Total Coliform + E. coli, Nitrate, Iron, Manganese, Lead, and Arsenic.
Basic Public Water Package: $65
If your water isn't from a well but is instead from a municipal source (you pay for your water), this package is for you. It includes pH, Lead, and Total Coliform + E. coli.
Additional Testing for Well and Public Water
Test add-ons are available for additional fees (due when you drop off your sample on March 30)
Please be sure to select individual add-ons when placing your order to receive the correct test bottles: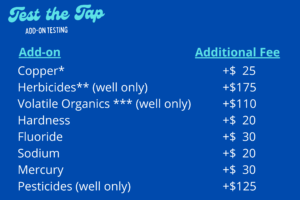 *We highly recommend adding copper to your package, especially if you live in an older home. Last year, many samples tested over the maximum contaminant limit for copper.
**Most of the land in this area was historically used for agricultural purposes. Agricultural chemicals can seep into the groundwater systems and infiltrate your well. If you are unsure of the past land use of your property or if this is a concern of yours, we recommend you consider adding herbicides to your test. (This is for well testing only).
***Volatile Organics enter the groundwater systems through the seepage of oil tanks. Test for this if you know there may have been a gas station or commercial property near your land at some point, if you are located near a railroad track, or if there's the possibility of a leaking oil tank on your or your neighbor's property. (This is for well testing only).
Click HERE for a full list of testing parameters and descriptions
Click HERE to view the Water Testing Brochure with additional information
---
Here's how it works
Today

– Register below:

Select one kit only (well or public) along with all additional tests.

Pay a $10 deposit.  

Print your confirmation email to show when you pick up your test kit (or show on your phone) – you must have proof of registration with you!
March 14 – March 29 – Pick up your kit at one of the following locations:

Summit Free Public Library – 75 Maple St., Summit, NJ
(Mon-Thu, 9 AM – 9 PM | Fri-Sat, 9 AM – 5 PM | Sun, 1-5 PM)
Great Swamp Watershed Association HQ – 568 Tempe Wick Rd., Morristown, NJ
(Mon-Fri, 10 AM – 4 PM)
You must bring proof of registration to receive your kit

(printout or on your phone)
Wednesday, March 30

 – Collect your water sample and drop it off

You will collect your sample from inside your home (instructions provided with test kit)

Drop off your sample at the same location you picked up your kit

 

(between 8-11 AM)

Your balance due must be paid at this time ($10 deposit will be deducted)

You must be able to sample and drop-off on this date/timeframe to participate
-This program is open to everyone.
-You must be able to collect and bring your sample to the designated locations on March 30.
-GSWA does not profit from this testing and offers them at-cost. In exchange for discounted rates, homeowners agree to let GSWA analyze the outcomes of their tests to create a database of results, increasing the organization's understanding of groundwater quality in our region.
These tests cannot be used to satisfy the requirements of a real estate transaction