NEW DATE! Town-Wide Yard Sale: Madison & The Chathams
October 16, 2022 at 9:00 am

-

2:00 pm
$10 gets your address & sale items on a digital map shared with the public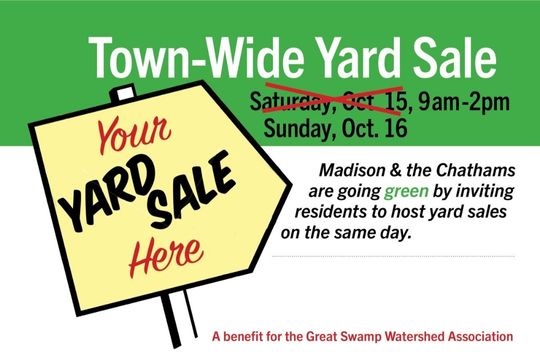 THIS EVENT TAKES PLACE SUN, 10/16!
Registration is now closed.
All you shoppers:
Click HERE to view the map of participants
Click HERE for to view the list of sale items by location
DIGITAL YARD SALE MAP WILL BE SHARED HERE ON OCT 14th, as well as on social media in Chatham and Madison and on popular garage sale sites.
Declutter your home before the snow begins falling. This yard sale is open to all residents of Madison and The Chathams. Register by Oct. 12 to have your address and a list of your sale items sale appear on a digital, printable map. Both documents will be linked to our website – GreatSwamp.org – the day prior and will also be published in local media and on town sites. No additional permit needed.
Registration Fee: $10 tax-deductible donation to benefit Great Swamp Watershed Association.
You must be a resident of Madison, Chatham Township, or Chatham Borough to list your sale. 
Everyone else…
Mark your calendar for October 15th to head out and shop sustainably at this amazing, three-town-wide yard sale! Be sure to check back here on Friday, October 14th at 9am for a digital map of all yard sale participants and items for sale at each location. The map will also be published in local media and on town sites.
To register
Scroll to the very bottom
of this page below "Details."
Change the quantity from 0 to 1 and click "ADD TO CART" to begin the process.
Frequently asked questions:
Is there a rain date? No. The sale will be held rain or shine.
Why pay to be on the map?  We have found that our town-wide sales attract shoppers from across NJ, NY, and PA. We promote the sale (and the map) in local media and on popular garage sale sites.
Can I have a sale without paying to be on the map?  Yes. Residents of the Chathams and Madison are welcome to hold sales on their own without registering.
Do I need to pay a permit fee to my town?  No. The permit fee for this event has been waived for residents of Madison and The Chathams. However, the $10 registration fee gets your address and list of sale items on the map.
Should I put up a sign if I'm on the map?  Yes. Signs will attract additional customers who are just driving by.
Who do I contact with questions?  Please direct all questions to the Environmental Commission of The Chathams and Madison at Claire.whitcomb@mac.com
What should I do with my yard sale leftovers?  Our goal is to have zero waste for this yard sale. Please contact following organizations to arrange pickups of your leftovers:
NOTE: Registering on this site is the only way to have your listing appear in the official map of sale sites for the October 16, 2022 Chathams-Madison Town-Wide Yard Sale. The coordinated publicity undertaken by the Chathams, Madison and GSWA results in hundreds of buyers from all over the tri-state area. Supplementary ads are unnecessary.