Join us tomorrow, April 1, for the GSWA Plant Sale Kick Off Webinar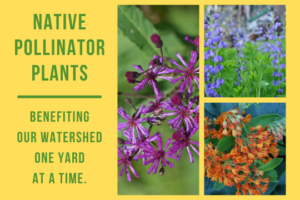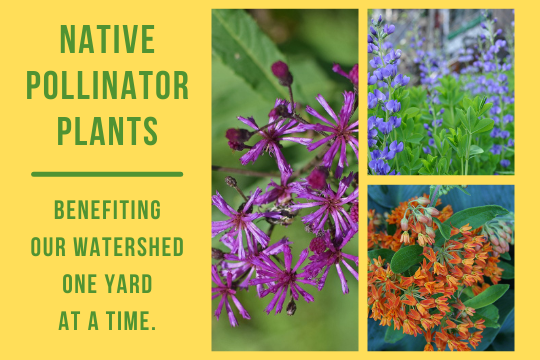 Building on the success of our first two pollinator focused webinars, we are hosting our third and final Zoom webinar of this series tomorrow, April 1, 12-1 PM – no fooling! Come learn about the different types of native plants that attract pollinators and why this type of garden benefits your yard, your neighborhood, and our shared watershed. Hazel England, GSWA Director of Education, Outreach, and Land Stewardship (and resident pollinator expert) will share how these different plants help build pollinator gardens to attract a variety of insects. She will also provide an overview of the native plants and plant kits available at our 2nd annual online Native Pollinator Plant Sale, and the simple, online ordering process. This is the official kick off to the plant sale that opens directly following the program. Click HERE to register. [Registration closes 4/1 @ 10 AM]
If you missed the first two programs on Jersey-friendly Yards and Pollinator Perspectives, email nrago@greatswamp.org to receive a link to the recordings.

Start where you are. Use what you have. Do what you can.
If you are used to swinging by the local box store or nursery to pick up a couple of flats of annuals each spring and are dipping your toes into purchasing native perennials this year instead for the first time, you may feel that choosing which native plants to purchase is a bit overwhelming.  It might seem so complicated. Which plants for which pollinators for which site?  But the fact is, just like the late, great tennis star Arthur Ashe said "Start where you are. Use what you have. Do what you can." While it is true that research shows that to sustain ecosystems long term 70% of plants should be native…starting with a couple of units of some gorgeous looking perennials that seem to grow well in the conditions you have in your yard is a step in the right direction.  We are pretty sure that once you start in on the path to providing homes and resources for pollinators, you will want to do more.
Any of our kits for sun, the expansion kit for sun, shade or wet conditions will provide an easy entry point.  Our 28 individual species will grow well in a range of conditions and support a wealth of pollinator species.  Consider your garden a work in progress and just begin- "start where you are".  Sure, you might make some missteps along the way, everybody does.  You will learn that sometimes just wanting a plant to grow well in your yard is not enough to make it so, when the deep shade you possess doesn't support the sun loving perennial you've planted!  But by following our suggestions for what growing conditions plants will do well in, and supporting them as they establish, you'll end up with a palette of successful, low fuss plants that will provide for your yard in many ways for years to come.
For some good background information, to increase your knowledge base, and along the lines of the "use what you have" start by checking out the two previous "Make Way For Pollinators" newsletters: In January's edition we gave good advice about planning the pollinator garden, preparing your beds, and the importance of native plants for local wildlife.  In edition two in February, we gave you some advice on where to go for design ideas, how to spot, and why to remove invasive species, and how to create soft landings for pollinators who need to overwinter in your yard.  We have more resources on our website including planting and maintenance information, lists of great native trees and shrubs to consider adding to your yard to support larval stages of the pollinators who visit the flowers as adults.
Each purchaser at our plant sale will also receive a great background resource filled with native trees, shrubs and perennials called "going Native".  Produced for this region of New Jersey, this can be a great guide beyond the plant dale to help you learn and incorporate more native plants into your yard.  So go ahead and "Do what you can" for native pollinators.
Spring Cleanup to Protect Pollinators
Hopefully, your native garden thrived late into the fall, supporting butterflies, bees, and birds, and sustaining local biodiversity. Now that spring is here, you're eager and ready to clean up the garden for another lively growing season.
But wait! Not so fast! Not everyone is as eager to emerge from their winter blankets as we are when the sun comes out. Many insects remain dormant well into the summer, tucked into leaf litter and secreted in hollow stems from the year before. Learning more about the lives of the insects, and some gentler cleanup techniques is a great way to get the garden look you want without harming the pollinators you are working so hard to attract.
Spring, Are We There Yet?
Although there is no hard-and-fast rule that will tell us when all the insects have emerged from their winter diapause and given the hot then cold weather, we have had this spring, resisting the urge to cut back old flower stalks on the first warm, sunny day will give some of the pollinators a chance to get going. When possible, cut back old stalks only when that plant shows signs of new growth, which will emerge at the base of last year's dead stalks- this may mean staggering your garden cleanup. Another rule of thumb is to wait until your area has seven consecutive days with highs in the 50°F range. If you are still getting frequent frosts, try to sit back a little longer.  The latest frost date in our area can be often as late as the 20th of April.
It's Spring, Now What?
The methods you use to clean up the garden are just as important as your timing. Keep an eye out for insects as you garden. Learn what different life stages look like, and when possible, let any stems hosting chrysalises or cocoons remain.  The amazing promethea moth caterpillar for example, curls a leaf around itself and spins its cocoon inside the leaf.  This caterpillar-leaf burrito then hangs from the host plant over winter and well into the early summer.   Other butterflies suspend their chrysalis from the larval food plants you have selected to attract them- so pay close attention! Many solitary bees lay their eggs in hollow stems (look for ends plugged with mud or plant material), you can leave them on the ground or tie them into hanging bundles. Where possible, don't bag up your debris, leave it on site, as this is the very habitat, they require to raise their young successfully.
One of the simplest pollinator friendly methods you can adopt is the "Chop and Drop." Cut back old flower stalks and dead grasses, then leave the cuttings on the ground below the plant. This creates a self-mulched area without removing nested pollinators or eggs from their preferred habitat. If you or your neighborhood requires a tidier look, try to keep these old stems somewhere else on your property, such as around a tree in the backyard. Try to take a similar approach to leaf litter in the garden. If you like to have wood mulch, wait until the summer months to avoid smothering ground-nesting bees, and avoid using treated or dyed wood chips.
Don't be a neatnik!
Spring cleanups tie into how you left your yard the previous fall. At the end of each growing season, leave perennial stems standing and leaves in the garden. You can use twine to tie up flopping stems for a neater appearance.  It might be against your instinct to use this kind of hands-off approach, but if you try these techniques for a couple seasons, you will likely see an increase in insect diversity, and in use over winter by a variety of birds and other beneficial and desirable wildlife.  Those dead stems provide both shelter and a seed source for foraging resident and migratory birds passing through your yard and look pretty in winter snows.
Spread the good word
Pollinator friendly yards can look a little different from typical grass and annuals yards.  Talking to you neighbors about just why you leave old stems and leaves through the winter might just inspire them to plant their own native garden!  Let them know it's intentional, and why you feel it is important.  Our "Pollinator Pathway" lawn sign can help with this education, and our Plants for pollinators resources page has links to other lawn signs that can spread the good word of how you value natural diversity.   Most importantly, remember that having native plants always makes a difference. If you don't have much space or must keep your yard a certain way, planting native plants and caring for your garden in the gentlest way that you can is making steps in the right direction! Every little bit helps.  Take the time to appreciate the difference your garden makes, and don't forget to be patient with our sleepy pollinator friends.
Plant Sale Pick Up Lines!
This year, we have made it easier than ever to connect with your new plants during pick-up on Saturday, April 30th, with the ability to select the most appropriate local pickup location for you at the time of your purchase.  During checkout of your order, you will select from one of 14 convenient pickup locations throughout our watershed, including Great Swamp Watershed Association's own headquarters, all with pre-determined pick-up time slots.
See below for a list of the different sites and their pickup times and note any instructions regarding pick up by surname letter- as this will speed your pickup.  Many of these sites will be staffed by knowledgeable native plant people to whom you can ask your gardening questions.
We recommend bringing boxes or newspaper to protect your car from loose dirt or water, as plants may have been recently watered to keep them in tip top shape for their arrival at their new home.  It's also a good idea to be able to bring your order confirmation with you to verify your order, as sometimes recollections can vary!  Remember to fill in all contact information on the order so the pickup site can contact you if there is a problem.  All plants must be picked up on April 30. You can designate someone else to pick up your plants if you will be away. If you ordered signs or hats, you'll be able to pick these up at the same time, along with a great native plant ready reference guide for North Jersey yards, which we are including with every sale.
Once you get your new plant plugs home, if you won't be planting them straight away, and we are not sure how you will resist, keep them in a sheltered spot with just enough sun and protect from wind. Keep them moist but do not over-water, but check frequently, they can dry out quickly given the small volume of soil.  If you won't get around to planting for more than a month, trim back to 6-12" and pinch off and flowerheads that form.  With proper care and attention, landscape plugs can stay healthy for several weeks.
| | |
| --- | --- |
| Bernard's Twp, Bernardsville   11am-1pm The Ross Farm | Montclair 1-4pm (A-L 1-2:30pm, M-Z 2:30- 4pm.) |
| Chatham Borough 12-3pm The Library of the Chathams | Morris Twp, M-town   2-4pm (A-L 2 -3 / M-Z 3-4) M-town Town Hall |
| Chatham Township 9am-noon Chatham Twp Municipal Bldg. | Morristown, Harding   9am-11am GSWA Headquarters |
| Harding Township 9am-noon Harding Twp Municipal Bldg. | Parsippany   noon – 2pm Parsippany Main Library, |
| Madison 12-3pm Address provided on receipt | South Orange, Maplewood   1-4pm Founders Park |
| Mendham Township 2-4pm Mendham Twp Municipal | Summit 11am-1pm Address provided on receipt |
| Millburn Township, Short Hills Gero Park | Westfield   10am-noon Brightwood Park |
Prepare for the Plant Sale!  Catalog Navigation Tips & Tricks
Our 2021 Plant Sale was a great success, with many plants selling out fast. Although GSWA has ordered more than 50% more landscape plugs for the sale over last year, we are expecting we'll sell out again quickly this year. Follow our guide with tips and tricks to easily navigate the plant sale website to make your plant buying process as painless as possible!
Navigating the Main Page:
The 2022 Native Plant Sale Home Page can be found off our home page under the Eco-Friendly Living tab. We've created easy tabs to take you to the main sections: Plant Sale Home Page, Plant Sale Catalog Page, Plant Sale Community Partners, and the Gardening Resources and Plant Sale FAQs. On this home page there is an introduction to the plant sale, a brief overview of how the plant sale works, and a short introduction to gardening with native plants.
Navigating the Native Plant Sale Catalog Page
Our Native Plant Catalog Page contains information about the 26 plant sale community partners, pickup locations, and helpful buttons to navigate to the rest of the site. At checkout you must select a pickup location, so check these out ahead of time here. If you are just beginning to browse the site, we recommend you continue to scroll down to see more information and details about each category on the Catalog Page. If you already know exactly what plants or kits you are looking for, you can click straight through to the category box you are interested in!
Plant Sale Categories 
The four parts of the "product" portion of the site allow you to navigate to our Garden Kits, Individual Species, Plant Sale Merchandise, and Plant it Forward Donations. All these categories can be accessed from the buttons on the main catalog page, so click the category box at the top of the screen to dive in.
There are several ways to see and learn about the amazingly diverse range of individual species offered, you can scroll down on the main plant sale catalog page and will see the image below. We've created a table of all the individual species with their vital statistics. If you would prefer icons, you can scroll down and all the individual species requirements as well as an image of each plant.
Below this is the alphabetical list of the individual species. So, there are several ways to find the plants you want, wither by browsing or heading straight there.  Our carefully selected kits, which we highly recommend can also be accessed at the top of the products page, and you can always head back to the main catalog. Anything you place in your cart will show up on the left side of the page.
Clicking on a plant will take you to a product page.
After
April 1
st
, an OUT-OF-STOCK sign means others beat you to it, and the product is gone- you can see if the species is contained in a kit if you must get your hands on it, or look for other species we consider are similar for the conditions.  To find additional plants with similar characteristics to that you've already selected, let's say Sunny loving species, click on the TAGS part of the plant description. These tags will bring you to a separate products page where you will see all the sunny individual species plants for sale.
For lots of helpful advice, at the bottom of the Catalog Page there are quick start gardening guides with advice and kit manuals. Each of the carefully selected kits, with bloom times across the season, have additional information that includes sample garden designs, maintenance advice, and information about each species. You'll find information on sunlight and moisture requirements.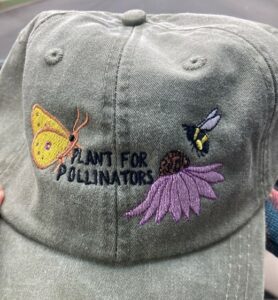 We want you to enjoy the plants you purchase, and we've prepared lots of helpful resources to help you learn more about native plants and the pollinators they support.  On the Plant Sale Resources page, you can find further information on all things native gardening, helpful information to prepare your garden for the new plants, and information about attracting pollinators.
We're also selling 6" and 12" pollinator Pathway  signs and amazing pollinator hats, emblazoned with a clouded sulfur butterfly, bumblebee and purple coneflower, on a green cotton ballcap.  Finally,  you can give the gift of native plants to the schools we work with by donating to "plant it forward."  This will help us purchase plants for schools downstream that we work with and help increase biodiversity in urban areas.  Donate by clicking on the tab in increments of $30, $50, $100, and $250.
With this cheat sheet in hand, knowing what plants you want, the pickup location and these helpful navigation tricks, buying plants this year will be a breeze and you will get the most out of our site!
Questions? Check out the Gardening Resources FAQ. If your plant related question is not answered, feel free to reach out to plantsale@greatswamp.org. Any technical or order inquiries, email Nancy at nrago@greatswamp.org.
The Native Pollinator Plant Sale officially opens at the conclusion of the 4/1 program!