Great Swamp Watershed Association 2022 Pollinator Plant Sale
GSWA and its many Community Partners will host our 2nd Annual Plants for Pollinators sale online April 1-22, 2022, with convenient order pickup at multiple local sites the weekend of April 30. In 2021, more than 430 customers purchased almost 14,000 affordable native plants. This year the benefits for pollinators are increasing as more towns join the project and our range expands downstream.  We anticipate selling 21,000 plants this year, details will be posted in February and the storefront opening April 1.
The expanded offering for 2022 includes:
A base kit of 5 species for sun

standard kit includes 5 plants each – 25 plants, small kit of 3 plants each -15 plants, and tiny kits of 2 plants each — 10 plants

An expansion kit of 5 additional species for Sunny Moist sites
An expansion kit of 5 additional species for Rain Garden/Wet sites
A kit of 5 species for shade

standard kit of 5 and 4 plants each for 23 plants,
Ideal to plant underneath trees and in shady sites

Individual modules of 5 plants each of 26 different native species (two additional shade species being 4 plants each)

Deer resistant plant choices
All compatible with moist soils, many work with dry or wet soils
Each plant is a "deep landscape plug" with robustly established roots.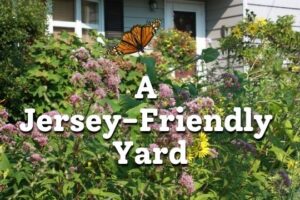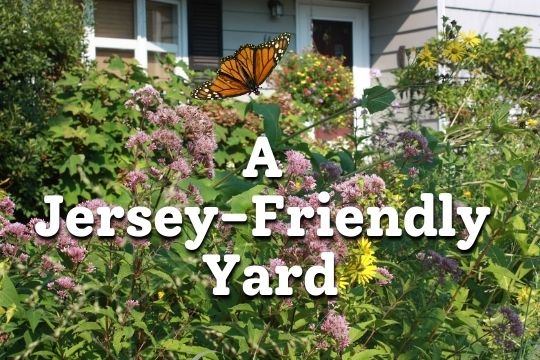 GSWA Plant Sale Webinar Jan 25th: Explore Jersey Friendly Yards!
Learn how to provide natural habitat to attract bees, butterflies, and birds! Join us on January 25 at 7 PM for a FREE one-hour webinar with Becky Laboy to show us how the Jersey Friendly Yards Website makes native gardening easy.
Becky is the Education Outreach Specialist for the Ocean County Soil District. She will introduce us to the NJDEP-sponsored Jersey Friendly Yards Website provided for all of New Jersey by the Barnegat Bay Partnership. This website is a simple tool to make your native plant gardening successful!
Register HERE > https://bit.ly/3qazgjC
Pollinator Garden Planning
Even though the days are short and the weather cold, it is never too early to plan for improving your yard for pollinators- but why plant a Pollinator Garden?
Gardening for pollinators and other beneficial insects creates multi-season beauty in your yard and also supports our diverse and rich insect population. Insects are a critical workhorse sustaining the ecosystems and agriculture that we depend upon. Insects such as solitary and other bees provide otherwise unavailable pollination for plants and food for wildlife, and form the basis of rich food chains of desirable wildlife species we long to see in our yards
Healthy insect populations require Native Plant habitat. Insects require the right plants to host their caterpillars and other larvae, to provide nectar and pollen for adults, and to support nesting and overwintering spaces. Sharing your garden with hungry insects is how you feed the whole ecosystem! These same native plants also provide seeds, berries, and shelter for birds and other wildlife.
Native plants sustain native wildlife (and vice versa) due to a long history of interacting and evolving together. Plants evolved defences to deter being eaten by wildlife, so many native insects evolved as specialists on one or a few plants. For example, the monarch butterfly caterpillar only eats milkweed, and has evolved mechanisms to store the otherwise poisonous plant produced defensive chemicals that deter other butterfly species.
Non-native plants evolved elsewhere so do not sustain native pollinators and birds, and because they are introduced there may not be local controls to limit their population and they can become invasive.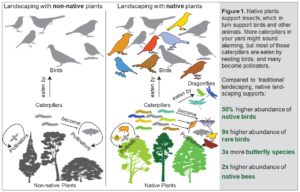 Native plants support a more complex food web of both specialist and generalist insects, resulting in a higher diversity and abundance of native birds, butterflies, and pollinators
Text and charts adapted from: Why Plant Natives Management Challenge, Northeast Regional Invasives Species and Climate Change Management (NERISCC), https://scholarworks.umass.edu/eco_ed_materials/3/
Your Yard Counts and you can make way for the pollinators!
Research shows pollinator insect populations are shrinking because of habitat loss and other stresses. Isolated pockets of habitat, even large parks, are not enough to maintain healthy and diverse insect populations, whether it is localized species like the Baltimore Checkerspot butterfly or an international migratory species such as the beloved Monarch butterfly.  For this reason , pollinator gardens of any size help contribute to Pollinator Pathways- providing connected habitat for healthy insect populations across nearby yards.  Think of your pollinator friendly yard as a bead on a necklace that connects yards to area parks, waterways, roadsides, and other planted areas. See https://www.pollinator-pathway.org/ for more information.
Planning and Preparation for your Pollinator Garden
Start early so that you have time to refine your thoughts and join our Jersey Friendly Yards webinar for lots of good ideas to get you going.
A good place to start is to ask yourself what landscape style you prefer?  Pollinator gardens do not need to be wild looking spots!
Native plant pollinator gardens can accommodate any landscape style from super formal to wild.
The Mount Cuba Center in Delaware is a wonderful demonstration proving that you do not need to compromise your landscape goals to use only native plants—see more of their pollinator friendly beds here https://mtcubacenter.org/
What general garden design will you choose?
Pollinator plants can be used to garden almost anywhere, from containers to huge meadows. If you are looking for layout and design ideas here are a few good resources to get you going, and there are more at the GSWA Plant Sale page.
Create pollinator Gardens for front yards and public places as native plant demonstrations that delight and encourage community members to become involved.  This is how we will grow our pollinator pathway network and meet the goals of GSWA for residents around the Passaic to love Watershed Friendly.  Planting native plant pollinator gardens also benefits water quality and keeps stormwater out of storm drains for longer.  Best of all native plants need very few inputs including fertilizer or pesticide benefitting the watershed even more.,
They can be visually attractive year-round with clear delineation of garden boundaries
If your neighborhood is neat and tidy, save a wild and unruly native planting for the backyard.
Preparing your Bed for Native Plants
Define and prepare new or extended beds early. Now is the time to start work on preparing for this spring!!
We recommend Sheet Mulch as the easiest and safest method to convert areas of lawn or garden areas that have plants you want to get rid of such as pachysandra and vinca.  .Sheet mulch is convenient to convert existing beds, extend existing beds or create new beds and it makes ideal growing conditions for the plants you will install.  Sheet Mulch is a simple no-digging approach that prevents regrowth, blocks the seeds in the seed bank, and is safe over the roots of trees and shrubs.
Cover the planting area with clean tapeless cardboard or 5-10 sheets of non-glossy newspaper

Watering as you go can help keep sheets flat

Cover this with 3-4 inches of composted mulch, but not up against the trunks of trees and shrubs
Particularly over tree roots and if using cardboard, poke a number of holes with a sharp pole to ease water and air penetration
Plant right through the sheet mulch, ideally after it has settled for 2-4 months
Start Early to Explore your Native Plant options for Spring!
Look for our next 'Make way for pollinators' issue coming next month in February , where we will focus more on how to select the right plant for the right place!
Source:  "Gardening With Climate Smart Native Plants in the Northeast" Management Challenge,  North East Regional Invasives Species and Climate Change (NERISCC), Creative Commons License