By Nicky Vanech, GSWA Intern
Want to be sustainable this holiday season but unsure of how? Follow our tips to get you started on having a lighter environmental footprint this holiday season. Although the holidays are a joyous time to celebrate with family and friends, they can also be a time when people increase their consumption and overall trash.
Between parties, guests, food, and especially gifts, holidays significantly contribute to the consumption of materials used for packaging, parties, and presents. Waste increases dramatically this time of year, and a recent report from Stanford University (2019) finds that collective waste increases by 25% between Thanksgiving and New Year's Day, yet many of these materials are not recyclable. National Environmental Education Foundation (NEEF) also estimates that between Thanksgiving and New Year's Day in the United States: 38,000 miles of ribbon; $11 billion worth of packing material; and 15 million used Christmas trees add to not only waste but also greenhouse gases (Blount, 2019). We've come up with some simple suggestions to help you to buck this trend!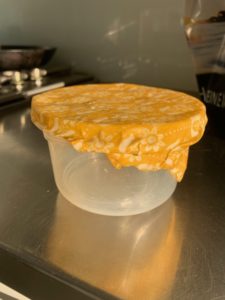 IN THE KITCHEN:
This year, instead of using disposable plastic bags or plastic wrap for food and other leftovers, try parchment paper, foil (which is recyclable) or ceramic containers with reusable beeswax covers. If you don't own reusable containers, consider investing in some.
GIFT WRAP:
We've grown accustomed to receiving beautifully wrapped gifts and, while wrapping paper is largely recyclable, Americans use enough wrapping paper to cover 45,000 football fields. Why not be creative instead? Try using fabric scraps, old maps, newspapers, and/or old posters! And keep in mind that coated, metallic paper is generally not recyclable. The CDC have discovered that Americans toss about one-quarter more trash between Thanksgiving and New Year's Eve. If every family in the U.S. wrapped even 3 presents in reused materials, it would save enough paper to cover 45,000 football fields. Fun fact: approximately 35% of Americans have at least one unused Christmas present collecting dust (CDC, 2019).
Ribbons, bows and string that decorate presents are easy to reuse year after year and they do not diminish in quality. So, if wrapping a present is important to you, keep them out of the landfill hang on to them for your next time. It'll also save you a few bucks. Additionally, gift bags are an easy alternative to wrapping gifts and it's more cost-effective to reuse holiday bags than to use disposable bags and wrapping paper (Eartheasy, 2019).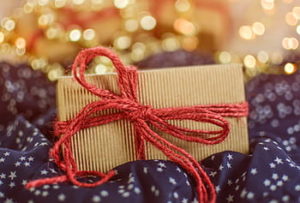 If you are mailing gifts to (or receiving gifts from) loved ones, some stores, like Mailboxes, etc., will accept your used bubble wrap or packing peanuts for reuse. To forgo single use wrappings for delicate items, scrunched up newspaper comes in handy for protecting the items being mailed and can also be a creative, sustainable option for wrapping gifts for family and friends.
Sheet music from old books (available at thrift stores) provides gifts with an old-time feel and can be very appropriate for music-loving family members and friends. Even scarves and aprons work great for wrapping presents. Again, get creative!
Decorate your gifts with natural materials for trimming and decorative packaging. Pinecones, branch tips, and maple leaves are perfect options to quite literally top off your gifts creatively and sustainably.
DITCH THE SINGLE-USE:
As we have been advocating, avoid single-use plastics to help reduce microplastics pollution in our waterways. Below are some gift giving ideas that will help your recipients reduce their single-use impact:
Reusable metal straws
Stainless steel food containers
Reusable coffee mugs
Reusable cloth napkins
Luggage made from recycled materials
Reusable grocery shopping bags and produce bags
Hand-crafted jewelry
Reusable travel cutlery set
Ethical and eco-friendly undergarments
Hand-crafted scarves, beanies and gloves
Reusable water bottles
Fair-trade and organic cotton socks
Reusable food wraps, covers, and storage bags
Eco-friendly wallets
Compostable pet waste bags
Books on eco-friendly living
Acts of service:

Do their dishes
Iron their clothes
Go grocery shopping
Breakfast in bed
Do their laundry
Fix their computer
Give them a "night off"
Pull their weeds
Dust their house
Shovel their snow
Pick up dry cleaning
Mow their lawn
Prepare them a meal
Bake them a cake
Give them a manicure
Mark important dates on their calendar
Schedule appointments for them
Take their pet to the vet
Walk their dog
Have ideas you'd like to share? Email us at info@greatswamp.org  and we will add yours to the list to share next year! To learn about safe disposal of non-recyclable items, click here.
Small changes can have a big impact. Happy green holidays, everyone!